Steven Allen Fisher
1976 - 2022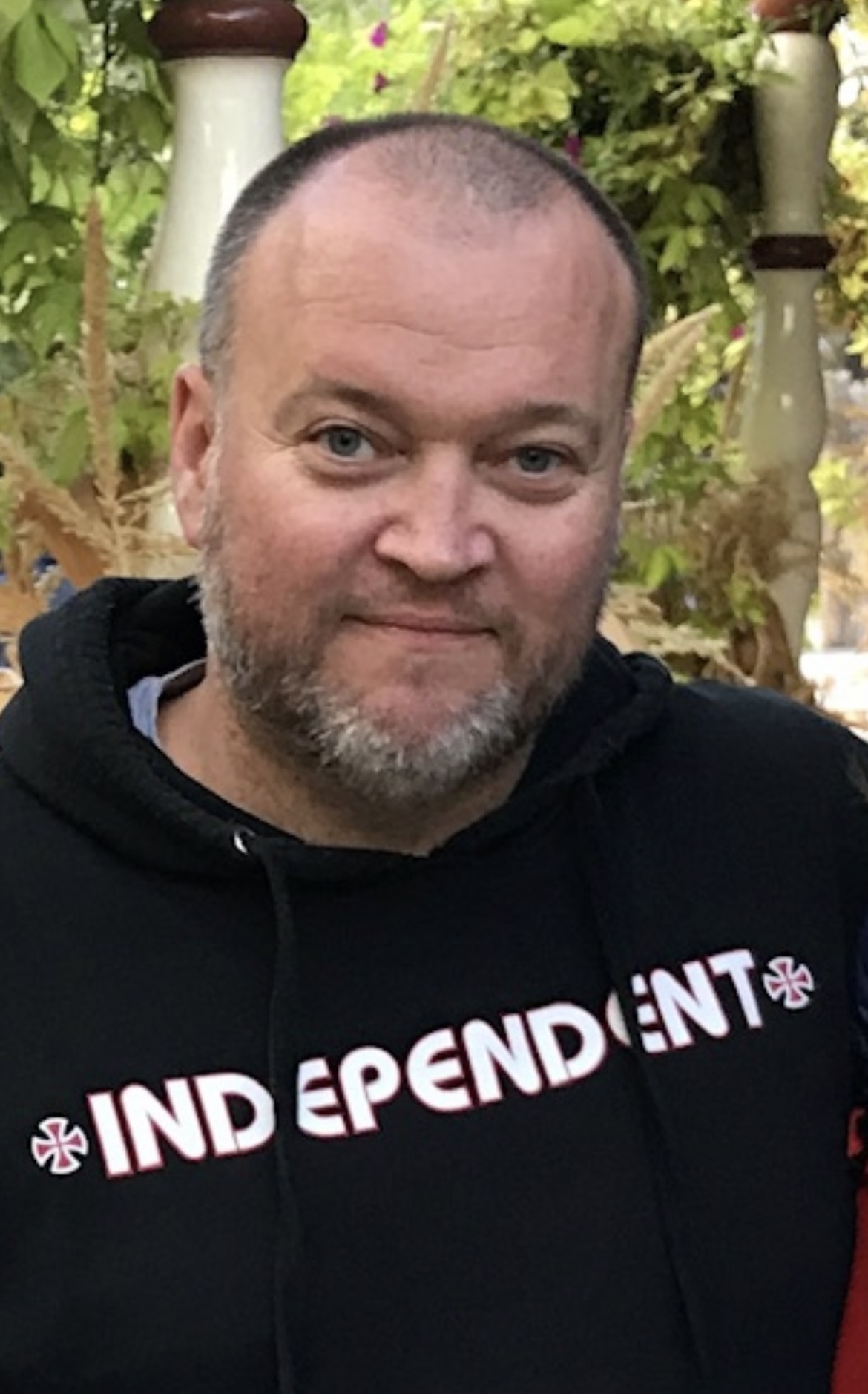 ---
Steven Allen Fisher. Super Dad to his three daughters, Ruby (13), Molly (10), Norah (10),
and proud loving husband of 23 years to Mindi Fisher (Hannan), passed away on
Tuesday, May 23 rd from complications with pancreatitis. He was surrounded by family
and friends.
Unsurpassed in his ability to be kind, to know Steve was to know he had an interest in
your well-being. Some said, "Steve reached the peak of what it means to be human. He
embodied love, empathy, compassion and understanding to the greatest degree. It was
obvious how much he loved each of us." Steve was loved by everyone, and humble
about the profound influence he had among friends and family.

Born in SLC, UT in 1976, to (survived) parents, Steven Dale Fisher Sr. and Carol Fisher
(Allen). Steve was the youngest, and only boy in the family. Maybe growing up as the
baby of the family to (survived) sisters, Rori Chandler (Fisher) and Ali Fisher (husband
Riley Rees), taught Steve to make space for people, because Steve always made space
for people. He was the type of person that you wanted to be around all the time. Family
members say they would gravitate to Steve in large crowds (like Hannan Family dinners)
because of his genuine aura, and his obvious desire to have a meaningful conversation.
The other great thing about Steve at social functions, was to see the sparkle in his eyes
(lit by his smile) when he crossed the room to hug you and say hello, with both arms, in
a bear hug. He was the best at those.
When asked (sassily) by his niece, "Why did you get a cheeeese tattoo?", Steve replied,
"Because I like cheese!". That was Steve. His dry humor was the most endearing part of
him. His smile was bright, his humor was subtle and hilarious. Steve was witty, quick to
let things go, and his "you do you, no worries" attitude was a comfort to all who knew
him. He knew a lot of good "Dad jokes". He always had a funny story to share and would
start laughing before he could finish telling it to you. Steve's laugh will be greatly
missed.
Steve was the epitome of an exceptional dad. His three daughters were his life. It was
commonly stated that Steve was meant to be a "girl dad'', and he was good at it. He was
an exceptional cuddler, listener, hot tubber, jokester, head massager, giver, spelling
corrector, number adder, coworker, best friend, neighbor, husband, brother, uncle, son
and father. Steve taught his daughters the most important things. How to be caring,
kind, accepting, cuddly (especially Norah), lego players, and skateboarders (his little
"ripper" Molly). Steve was a sensitive, and loving father. He put his kids first. He
established fun family traditions like Friday night pizza, movie night (full on with an
outdoor projector!), and cuddling while watching funny animal videos with his kids
before bed. Ruby, his oldest daughter wrote in his birthday card on April 19, 2022,
"There has almost never been a time when you aren't willing to give us help. Whether
its making mac & cheese, or helping with math homework, you are always there for us
when we need you even when I am sad. You always make me smile with your dorky dad
jokes." Just a few days before his illness, Steve told his sister, Rori, " …it was so
important to him to be kind to everyone and be a good dad and husband"...he truly was
a goodhearted man.
People are happy and proud to know Steve, so he had a lot of nicknames. Somehow
many of his nicknames were versions of putting more EEEs in his name and then ending
it with a B. "Deebs", "Eeeeeeeeeb", and "Uncle Steeeeb", the more EEEs the better.
When friends and family were asked about this obsession, no one could remember how
it came to be. Skate friends call him "Fish". His Grandmother (Carol Frome Fisher)
called him, "little Steven". His sisters called him "Peebum, (because when he was 2
years-old his mom caught him changing his own diaper; he never wore them again),
then later they shortened it to "Bum". Based on a podcast joke they shared, Steve and
his sister Ali, have shared the nickname, "Jeans'' for years. His most recent nickname is
"Shads", unique to his kids. It was his favorite.
Steve loved to skateboard. For Steve, it was life, and he was a legend in the Salt Lake
skate scene. Friends say the reason Steve loved skateboarding is not only for the mental
aspect, but it is because of the community and friendships it built. Even as a young boy,
he molded and cultivated a skating community. Starting at "Mrs. C's", and then later in
his own home when he decided to build a skate ramp in his backyard. To Steve's
delight, friends came to help build (and re-build) the ramp every year. Decades in the
making, he molded an entire skate community into a family. He was the "glue"of this
group.
Steve founded the "Old man sesh" on Wednesday nights and invited friends to come
over every week to roll. Steve also began holding annual skate BBQ parties. This
massive event flourished under Steve's purview, and friends would plan their summers
around the weekend, so they could be sure to attend. It didn't matter if you lived near
Steve, you made it to this widely celebrated event. Eventually, people would say his
skate BBQ parties were "Epic!"; and they were. He nurtured an amazing community,
many of which have been friends for over 30 years. He always posted great photos and
comments on Instagram following the Wednesday night sessions and the renowned
annual BBQ.
#theoldmansesh #thankyouskateboarding #rollforever #makeWednesdaysgreatagain
Steve was not a born traveler, but Mindi was. She "dragged" Steve to Redwoods
National Park last year with their kids. It turned out to be the "best trip of his life". It was here
(among the Redwoods) that he realized how important it was to just BE. His most
cherished family time and self realization was discovered here. Steve and Mindi were
excited about planning their next adventure.
Steve was obsessed with his wife, Mindi. They married in 1999 and were together
longer than they were apart. Steve was a caring and loving husband to her, and she
could always count on Steve to catch her when she fell. He could always make things
better. They built an amazing life together with their children. He did not want to leave
her. He did not want to leave his children. In the days following his passing Mindi (a self-
stated "non- spiritual" person) says, "Steve has made it clear to me that he is not
leaving me (spiritually), that he will be around. I have actually felt Steve tell me, you will
keep feeling my love forever, just through a different lens."
In celebration of Steve's life we are inviting you all to meet on Monday, June 6 th at Lone
Peak Park, located at 10140 S 700 E, Sandy, UT 84070. The schedule of events is listed
below.
6:00pm - 7:00pm Open House
7:00pm Tribute Ceremony
7:45pm Skate for Steve
8:00pm - 10pm Mingle, Skate, Celebration of Life
Roll Forever Steve
Mindi wanted to give a special thanks to everyone who has been so supportive of her
and of her family through this extremely difficult time including the nurses and
doctors at LDS Hospital. As an expression of sympathy, contributions to the family
can be made to: gofundme.com (search for the Fisher Family)