Ronald Leon Shatto
1957 - 2023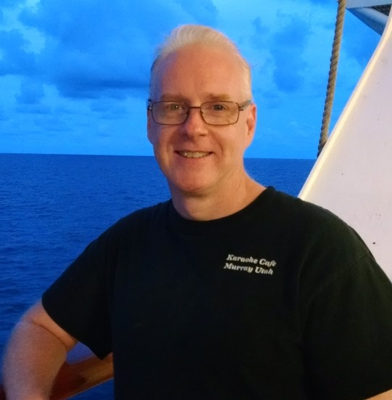 ---
Ron-OLD Leon Shatto was released from his mortal calling on July 14, 2023, with his family by his side.
Ron was born on April 24, 1957, to the late Carl Romeo Shatto and Lucy Marie Tolley in Cuyahoga Falls Ohio…look it up. Ron had one sibling, Florence Marie Stump(Ted) who also proceeded him in death.
On September 7, 1985, Ronald married his only cousin who would say yes…not blood related - that would be weird! He married Deborah Ann Tolley and was later sealed in the LA Temple on December 6, 1986, for time and all eternity. (He hasn't escaped yet...)
Quickly, they started their family, and in 1997 they relocated to Utah where they managed the Manti Motel. They relocated to Salt Lake City, where in 2010, they co-owned the Karaoke Cafe and where Ron worked in the kitchen and became famous for his loud swearing when things got busy as well as when things were slow.
Ron enjoyed cross-stitching, coin collecting, nature and photography, scrap metal collecting, pulling lint from his belly button, his family and…well, that's about all he enjoyed.
Ron is survived by his first wife Celine Dion…(maybe just a fantasy) current wife Deborah, and their children Derek (Daniella), Jason (still single ladies), Trena (Jaren Soto), Alesia (Tony Soto) and grandchildren Aardel, Aara, Sophia, Mila, Evelyn, and he who is coming soon. Also many bonus children, nephews, nieces and in laws. And not to mention…because it wasn't, his favorite in law Marie Tolley Jess. :)
Services will be at the Winslow Park Ward located at 3219 S 300 E Salt Lake City 84115 on July 22, 2023. There will be a Memorial celebration from Noon – 1pm with a short service following from 1-1:30 and for those who cannot make it, a link for a live stream (Is it still called live stream if it's broadcasting a funeral?) will be provided.
At Ron's request he will be cremated because when it came to his aggressive cancer, he wanted the last laugh by, and I quote "burning that sucker out!"
We believe Families are Forever and we will one day all be reunited.
The question is when, and we can clearly hear Ron say, "I don't know, Deborah!"