Ellen Marlene Bartel
1939 - 2023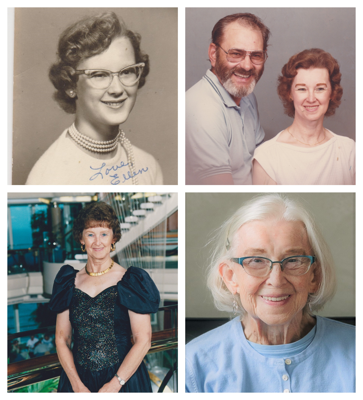 ---
Ellen Marlene Bartel, 83, passed away on July 31, 2023, in Holladay, Utah. She was born on August 31, 1939, in South International Falls, Minnesota, to Alice and David Servis. She married Julius Bartel on October 19, 1957 in International Falls, Minnesota. Ellen was a beloved wife, mother, grandmother, sister, and friend.
Ellen was loved by many and treasured her time with friends and family. She enjoyed living at Highland Cove Senior Living, where she made lasting friendships. Ellen was a member of the Knit and Crochet Club and participated in various activities, including her favorite-bingo and exercise classes.
Ellen is survived by her brothers, Dave Servis and wife Mary, and Delane Servis and wife Linda. She is also survived by her children: Melody Barenbrugge and husband John, Doyle Bartel and Debra Bartel (former daughter-in-law), and David Bartel and wife Nadene Mitchell. Ellen was a proud grandmother to Tiffany Morita, Dustin Bartel and wife Sara, Crystal Bartel, Cameron Barenbrugge, Ryan Barenbrugge, Karin Garcia and husband David, Kristen Vestlie and husband Samuel Holan, and Wren Bartel. She also loved her great grandchildren, Mason Becker, Jeremy Morita, Jacob Morita, Alexander Bartel, Jocelyn Bartel, Kendal Garcia, Khloe Garcia, Gabriel Garcia, and Calvin Holan.
Ellen was preceded in death by her parents, Alice and David Servis, her sister Mary Johnson, and her husband Julius Bartel.
Throughout her life, Ellen held a variety of jobs. She started her career at a bank in International Falls, Minnesota, and later worked at Naperville Savings and Loan in Illinois. Her final position was at Pepperidge Farm in Downers Grove, Illinois where she was a valued member of the plant services team.
In her free time, Ellen loved traveling with her husband Julius, capturing their journeys through photographs. She spent many hours crocheting beautiful afghans and knitting mittens. She could always be found with a word search book nearby, and enjoyed her vegetable garden, even though she mostly gave all the fruits of her labor away to neighbors and family.
Ellen moved to Utah 7 years ago. She became part of a large, extended Utah family. She loved being part of the family dinners, holiday celebrations and barbecues. Her family loved her dearly and they felt her love for them.
She was an active member of the Lutheran Church, Missouri Synod, attending services weekly. Her faith was strong and she found peace at church.
Ellen will be deeply missed by all who knew and loved her. Her warm spirit, love for her family, and her surprisingly quick wit has created many cherished memories. Her strong faith in her Lord and Savior comforted her throughout her life. She is now in the loving arms of the Father where she will rest in eternal peace.
Family and friends are invited to her memorial service on August 26, 2023 at 10:30 am. Services will be held at Redeemer Lutheran Church, 1955 E. Stratford Ave. Salt Lake City, Utah.