Cindy Stayner
1958 - 2023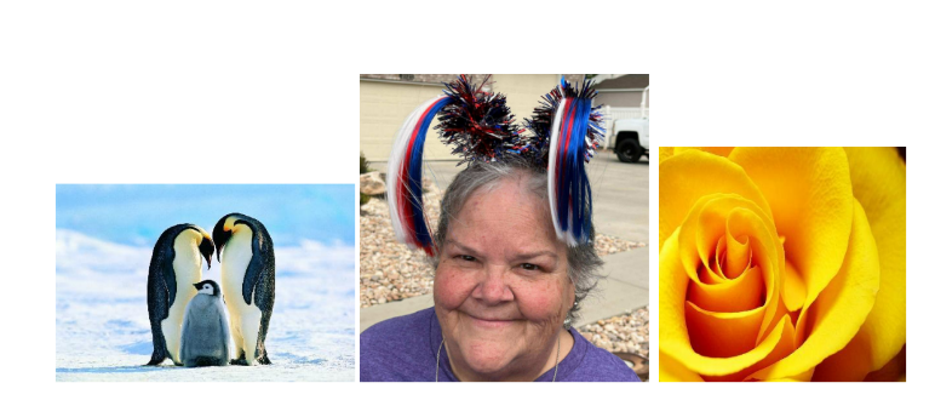 ---
Cindy Stayner, age 65, of SLC UT, was taken from us unexpectedly on 8/17/23.
Cindy was the 3rd of 4 siblings. She was born June 5, 1958, to Joan and Reid Stayner in EL Paso Tx. No matter where she was or who was around, she could always light up a room with her warmth and loving personality. She met her best friend and spousal unit (as they joked) Mike Shipler in the summer of 1991. She became a loving mother 10/16/89 to her only son Joseph Radloff.
She was an avid sports fan. It didn't matter what baseball team was on tv or in person she would have a blast just enjoying the game. She also loved to kick back and do
sewing or craft projects, with a game of football on. She got to enjoy her first live NFL game with her son Joe and became a die-hard Broncos fan ever since.
Cindy was an avid seamstress. She loved to have her weekly sewing and crafting Sundays with her friends and family. No matter what the occasion or where she was traveling to, she always had some project or car full of crafts she was working on. She had many merry adventures traveling the world and enjoying the time she spent with everyone she met along the way. She took pride in her work at Makkio's daycare as well as the Sudanese Sunday school at Wasatch Presbyterian Church. She was loved and cherished by the kids at both places that she would watch over. It filled her heart to teach them about her god and see their love for their faith grow.
Cindy touched the hearts of many and changed the lives of many more. The life of the party or the shoulder to cry on, Cindy was there for those she knew, no judgment,
just unconditional love. If you knew Cindy, you know she loved her Merry adventures and would want you to carry on and enjoy life to the fullest. And live by her moto Live,
Laugh and Love.
Cindy was an active member of many Masonic organizations. She started off as a young active member of Bethel 1 Jobs Daughters International. She was sitting as Worthy President of the S.O.O.B #247, and past Worthy Matron of Radiant Chapter O.E.S., past Bethel Guardian of Bethel 10, and current guardian council of Bethel 16 for Jobs Daughters International. She was a DeMolay advisor to the Salt Lake Chapter Order of DeMolay. She spent many years participating in and supporting both the M.P.C. Y.R. and the Grand York Rite of Utah bodies.
Cindy is survived by her son Joseph Radloff (Melissa Colley), sister Carrie Dickson (Dana), and Brother Reid Stayner. As well as her adopted sisters Patti Dixon, Angela Mass, Jane Hereim. Her adopted daughters K.d. Costin (rich) and Julie Kidwell. As well as several others that called her family. Her proudest honor was to be a
grandmother to Zachary Langford, Dylan Langford, and Cecelia Reyman among other adopted grandkids. As well as a great-grandmother to Robin Vosburg.
Cindy is preceded in death by her Parents Joan & Reid Stayner and Sister Kristy Stayner.
Services will be held on September 16, 2023, at 1:00 pm at Wasatch Presbyterian Church on 1626 S 1700 E SLC UT.
A GoFundMe was set up to help with funeral and memorial expenses and can be found by going to: gofundme.com/9463379e
In lieu of flowers please donate to ktef.org for the Knights Templar Eye Foundation to help give back to her charity she highly believed in.
While you will be missed you will always be loved dearly and be forever in our hearts.